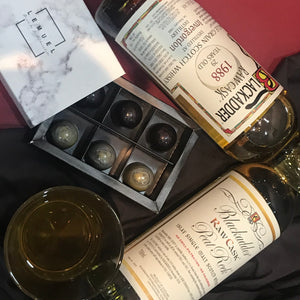 Note: Collection at Lemuel Retail Shops (Star Vista or West Coast Highway). Cask sediments and slight cloudiness maybe present in the whisky samples, which is perfectly normal in Blackadder Raw Cask bottling.
Collaboration with Lemuel Chocolate! A bean-to-bar craft chocolate maker in Singapore. Showcasing a delectable offering of 6 whisky infused bonbons (from 2 different types of whiskies) & whisky flight (2 different whiskies - 50ml each).
1. Blackadder Raw Cask Invergordon 1988 29YO Single Grain Whisky
Bonbon made with whisky-infused ginger bits with 70% Dark Chocolate (Indonesia, Solok) Whisky Ganache
2. Blackadder Raw Cask Peat Reek Islay Single Malt
Bonbon made with whisky-infused Goji Berry with 70% Dark Chocolate (India, Kerala) Whisky Ganache
The alcohol % for both whisky infused bonbon is 9%. 

Limited to 50 sets.
https://www.interco-mle.sg/collections/blackadder-raw-cask/products/blackadder-raw-cask-invergordon-29yo-1988
https://www.interco-mle.sg/collections/blackadder-raw-cask/products/blackadder-raw-cask-peat-reek-pr2018-10